We are proud to offer an affordable, and unique lodging option for travelers both domestic and abroad! When it it time to rest your weary head, we have several room types to choose from. All of our beds are twin-XL so there is plenty of leg room to stretch out. We also provide your linens; just bring your toiletries.
Our hostel is unlike any other. We're proud to offer an affordable yet boutique lodging option for local backpackers, skiers and others exploring the Vail, Beaver Creek and surrounding areas!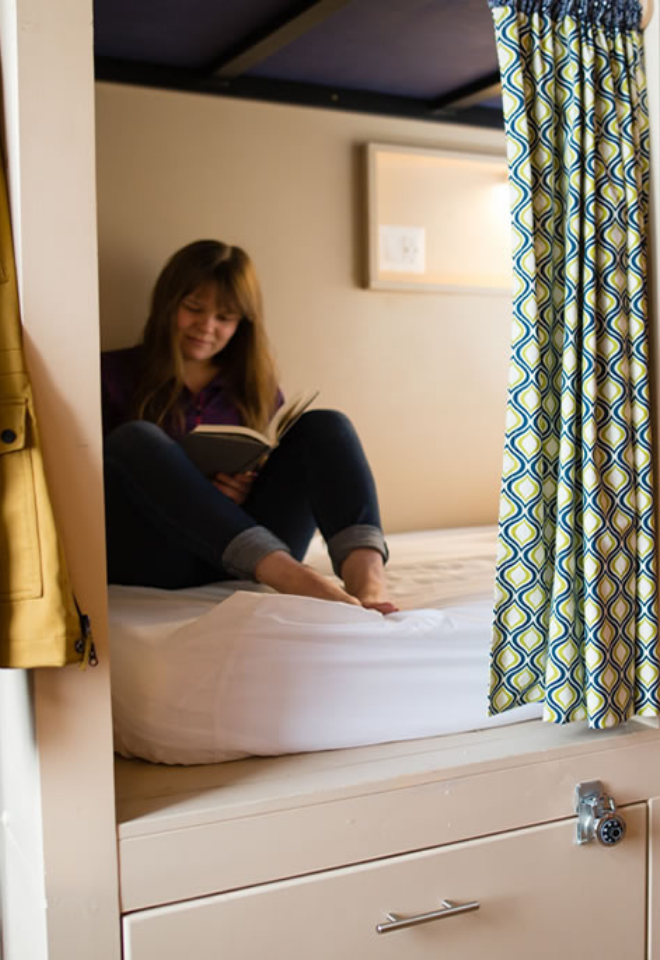 Our solo travelers love the private feel of the Pods in the Main Bunk Room.  Enjoy one of our cozy, hand-crafted Pods in this 30 person dorm.  Our Pods were custom-built with reading lights, fans, electrical outlet, and a privacy curtain for maximum comfort.  Just below your bunk is a large, lockable drawer for storage.  These comfy spaces allow for a relaxing night's sleep after a long day on the mountain!
The Buffalo Room
"The Convertible Quad"
Enjoy a quiet, relaxing night in our semi-private, four person dorm. The Buffalo Room has open style bunks with extra floor space, and a locking door. The two bottom bunks may be converted into a king bed upon request. Your group must reserve all four beds to submit this request. This Quad room is great for those traveling in groups, or any solo travelers with multiple bags or extra gear.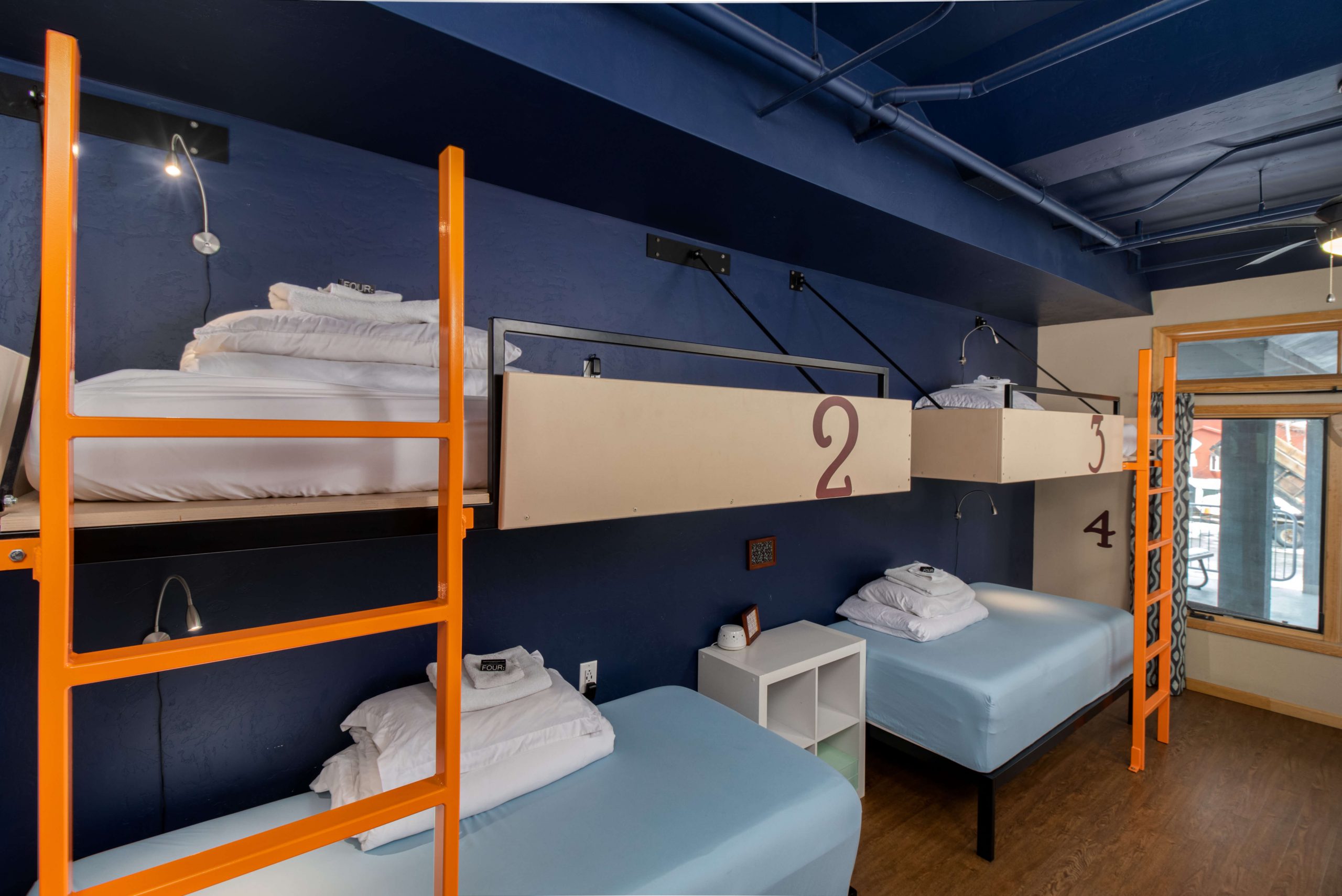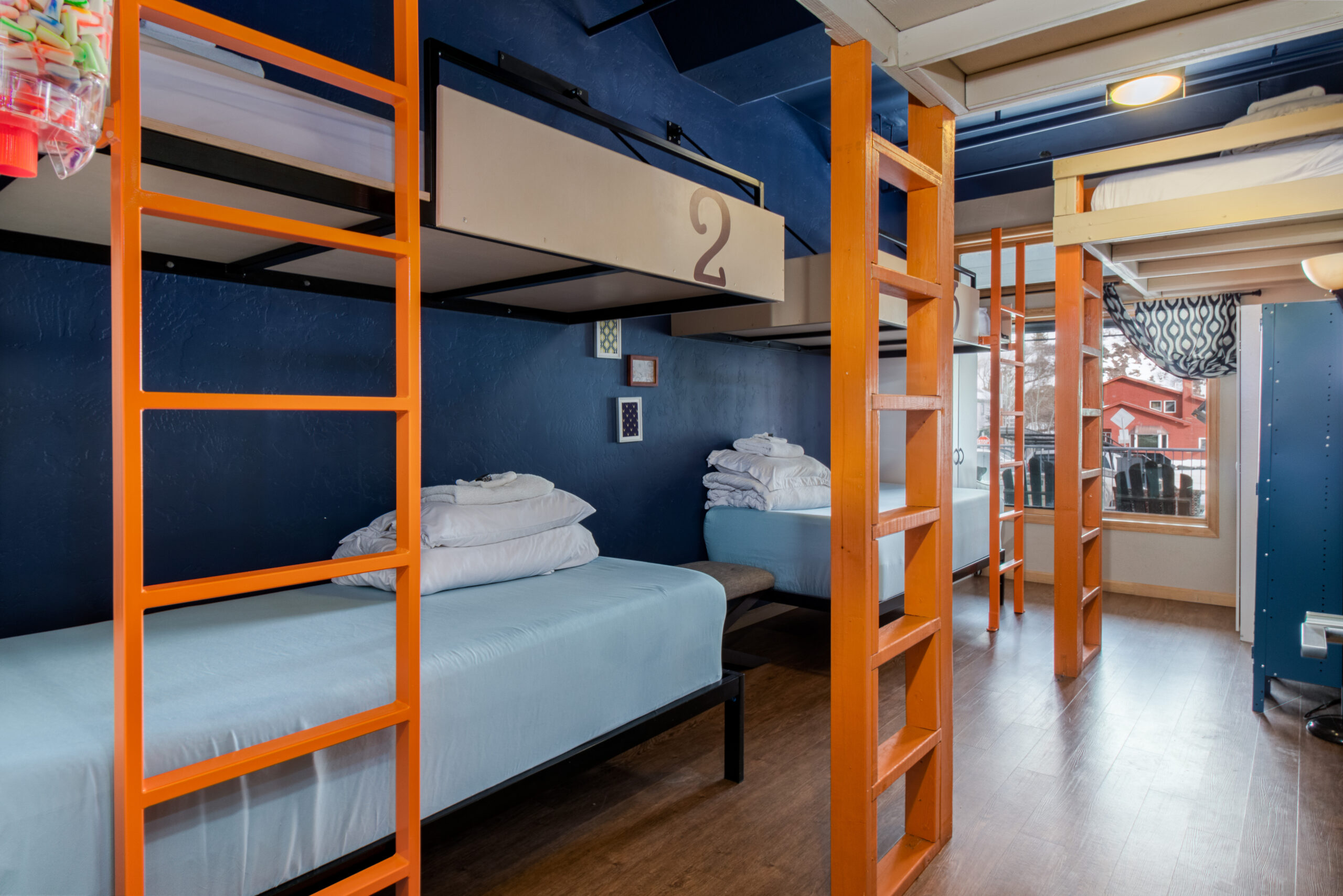 The Bear Room
"The Six Pack"
The Bear room is a semi-private, six person dorm that may be booked individually, or as a whole for your group.  With extra floor space, and a locking door, you can cozy up for a great night's sleep in our open style twin-XL bunks.
The Bunkhouse features all of the amenities you'd expect to find in a regular hotel, including free WiFi throughout the building and modern finishes, but without the high hotel prices. A local cup of coffee is included in the bed price, as well as 24-hour use of our fully-equipped kitchen. We have free private parking and plenty of storage space for all your gear, making us the picture-perfect place to stay during your mountain adventures.